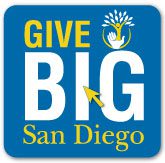 There is so much to love about living in San Diego, the environment here is definitely one of them! With so many environmental organizations in our area, why should you support ILACSD?
We are the longest running environmental nonprofit in the area! We started fighting litter in 1954 and haven't stopped since.
We are the only organization dedicated to cleaning up the entire county of San Diego, from inland to the coast, for generations to come.
Not just cleanups! We're most know for our clean up events, Creek to Bay and Coastal Cleanup day, where our volunteers remove thousands of pounds of trash each year, but we also provide education programs to 30,000 children, teens and adults each year.
Our One-Stop Recycling Resource. The only one of it's kind in our area, www.wastefreesd.org is your go-to place to find out where to recycle anything and everything, as well as how to properly dispose of hazard waste like oil, paint and electronics.
From 7am TODAY to 7pm TOMORROW you can support us and show that YOU love a clean San Diego too! Donate through The San Diego Foundation's GiveBIG Event and a portion of all online donations made to I Love A Clean San Diego will be matched by the Foundation! To learn more about I Love A Clean San Diego, visit our website www.cleansd.org.