Today's post comes from Morgan Justice-Black, ILACSD's Director of Development and Marketing!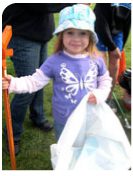 Charge those camera batteries and get ready to compete in the Sony Creek to Bay photo contest! I Love A Clean San Diego and Sony challenge you capture the spirit of the Creek to Bay Cleanup by taking photos of volunteers in action on Saturday April 28th. Whether you've got a fancy camera or a cell phone, you could be the winner of a brand new Sony Cyber-Shot camera if your picture makes the final cut!

Here's how to do it:
Volunteer at the Creek to Bay Cleanup on Saturday April 28th from 9am – 12noon (register on the event website: www.creektobay.org)
While you're cleaning up at the event, take a moment to capture your best "volunteer in action" shot from your site. It may be you, a friend or someone who looks like they are giving their all for a cleaner environment. Just make sure that the image captures the spirit of the Creek to Bay Cleanup!
After the cleanup, submit your best photo via email to iloveacleansd@gmail.com. Please include your name, phone number and email address so that we may contact you if you are the winner. All entries must be submitted by Friday May 4th.
I Love A Clean San Diego staff will narrow down the field to three finalists, whose photos will be posted on ILACSD's Facebook page for voting May 11-May 17.
Encourage your friends to "like" ILACSD's Facebook page and vote for their favorite picture. Voting will go through May 17.  (www.facebook.com/iloveacleansd)
Cross your fingers, because we will announce the winner on Friday May 18th!