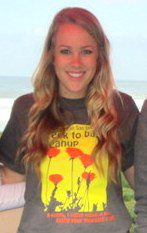 Today's post comes from ILACSD's Marketing & Community Events Intern, Maddy Blake.
My name is Madelyn Blake and I am a senior at the University of San Diego. I'll be graduating in May 2012 with a double major in Political Science and Philosophy, but my passion lies with environmental stewardship.
As I entered the final semester of my college career, I knew that I wanted to gain internship experience in the environmental field. I've always been passionate about these issues but after traveling the world, I realized the harmful impacts human actions have on the natural world around us. While researching environmental non-profit organizations, I stumbled upon I Love A Clean San Diego and knew I
wanted to be a part of their cause.
I began interning with ILACSD in February as an Outreach Intern. I attended cleanup events in order to help volunteers with checking in and weighing the bags of trash they returned to us at the end of the day. I loved being out in the sun with like-minded individuals and having the ability to walk around and help out wherever I could. The events are full of energy, fun and dedication towards cleaning the natural habitat. Aside from working at cleanup events, Outreach Interns also attend community festivals and fairs. These are my favorite events because I am able to talk about our organization, our cause and recommend ways for people to get involved. I love sharing what ILACSD is doing in the entirety of San Diego County and learning from other people what environmental issues affect them most often. It provides me with more insight to the unique issues found in our neighborhoods and helps me to understand why ILACSD works throughout the county.
My favorite event this year was in La Mesa at Mt. Helix Park. I Love A Clean San Diego had a booth with an "Emergency" themed game for children. The kids had to pick up different types of trash without letting the buzzer go off, and then place the items in the appropriate places: recycling, hazardous waste, compost or regular, old trash. I loved when the kids were excited about placing the items in the correct places and how they explained why they chose that particular place. I was surprised at how knowledgeable they were and sometimes, they even outshined their parents! It's refreshing to know that these younger generations have such a great understanding of the environment and realize the impact they can make by doing the right thing.
Although I began interning through our community events department, I started working with the marketing department as well. I primarily worked on research projects in the beginning, but have recently moved on to social media-based projects. This includes writing press releases, blog posts, Facebook updates and Tweets. It's been really fun because I can be creative and show mine and ILACSD's 
personality through all of these outlets. This position has given me the opportunity to see our influence on the community through social media and how it allows us to reach more people through Internet-based mediums.
Because of my internships with I Love A Clean San Diego, I've learned things both about myself and the environment. As for the latter, the most striking information that I've acquired is a knowledge of items that can and cannot be put in the recycling bin. For example, I've lived my entire life thinking that flimsy plastic bags are recyclable… they're not. And I vow to stay far, far away from them. I think the coolest part about ILACSD is their recycling hotline, WasteFreeSD.org – it's so easy and convenient to use. As for myself, I've learned that working for a non-profit isn't always glamorous work, but it's motivating because you're working for a higher cause. The people in this office are friendly and really know their stuff. They're qualified and experienced and just in general, wonderful people who want to make a difference. I thank them for this opportunity and look forward to volunteering with them in future years to come.
The ILACSD staff would like to thank Maddy for her hard work this semester and we wish her the best of luck in the exciting adventures she will embark on after graduation!