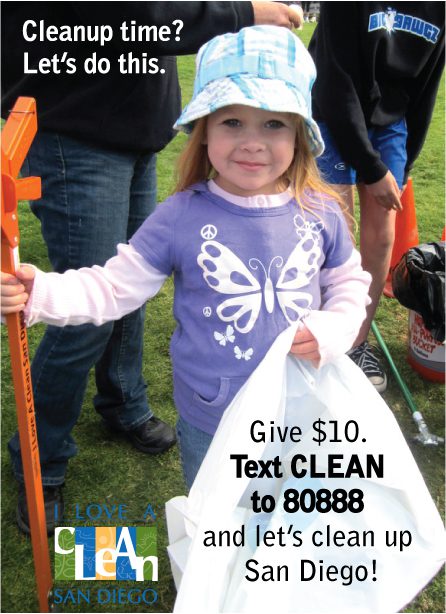 You have the power to help restore our community and change people's behaviors by supporting I Love A Clean San Diego.
Cleanup events, like this weekend's Coastal Cleanup Day, are one way that we at ILACSD mobilize our community to preserve the San Diego way of life that we all know and love by picking up litter from some of our most treasured beaches, bays, rivers and parks. By engaging community members as volunteers to pick up litter, especially kids, we help change the way they think about protecting our local environment.
If you've been to one of our cleanups, you know the problem of trash in our environment is a big one. Now you can go a step further to help cleanup your local environment by texting the word CLEAN to the number 80888 to donate $10 to I Love A Clean San Diego!
Your $10 donation can remove 300 pounds of trash from your local community.
You don't have to give any personal information to text and donate! The donation will show up on your next cell phone bill.
Text CLEAN to 80888 today!