Today's post comes from ILACSD's Community Events Intern, Taylor Goelz!
Now that the month of October is over with its cleanups every weekend, we in the office can take a little breather, but not for long! As we mentioned last week, I Love A Clean San Diego hosted two of the Tijuana River Action Month Cleanups (TRAM) during October. Last weekend at the final TRAM Cleanup, along with clearing the Tijuana Watershed of 278 tires and an entire dumpster full of trash, some volunteers participated in our Storm Drain Stenciling Program. This volunteer program is so important to the City of San Diego because it helps raise awareness about how you can prevent trash from flowing down stream and polluting our beautiful ocean. We promote Storm Drain Stenciling even more around this time of year because it's just before the winter rains come in and wash all of the debris and pollutants from our day-to-day activities into local waterways and the ocean.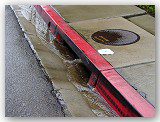 Not many people know that there is a HUGE difference between sewer pipes, like the pipes in your home, and storm drains, a common sight on city streets. Anything that goes into a sewer first goes to a sewer treatment facility where it's treated before going into the ocean. On the other hand, all the trash, runoff and debris that goes into storm drains isn't treated, it just goes straight into the ocean as is! Not only does all of this trash in the ocean make a day at the beach less fun, but it also threatens human health and endangers wildlife. You may think that the majority of the trash in the ocean comes from people enjoying a day at the beach, but up to 80% of the pollutants and litter that is found in the ocean came from inland sources and washed down to the ocean via storm drains.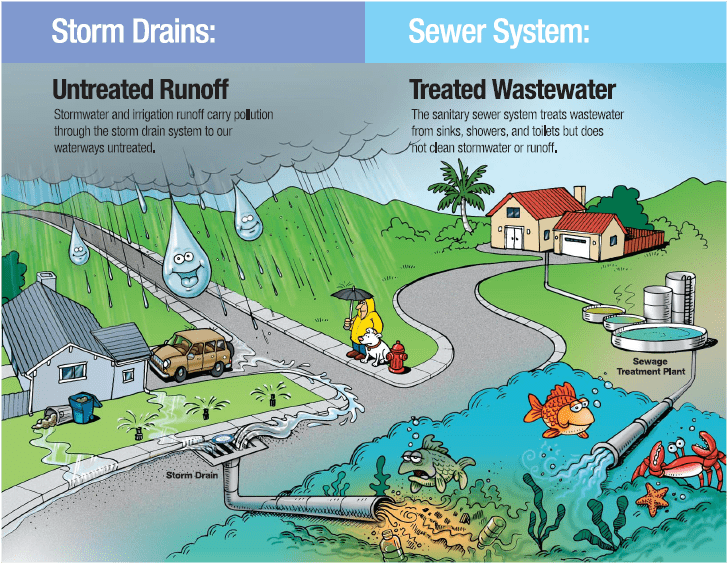 While this is a serious problem, ILACSD and Think Blue, the City of San Diego Storm Water and Transportation Department have a very easy, and fun, way to make sure people know the connection between ocean pollution and storm drains, Storm Drain Stenciling! The premise is simple: you volunteer to go around and stencil a bilingual message on top of a storm drain to create a visible reminder to let people know that anything they dump here will all go straight to our ocean backyard.
To find out more about this unique volunteer program and to schedule a time to pick up a stenciling kit, you can email volunteers@cleansd.org or call us at 619-291-0103. You will need a $25 deposit (cash or check only please) that is entirely refundable if you take good care of the kits and return them in good shape! So here's a call to arms for all you artistic environmentalists out there, Storm Drain Stenciling is a great way to get the word out about the connection between local waterways and the ocean. Happy stenciling!