Today's blog post comes from our Hotline Program Assistant, Barbara Lopez, on of our resident recycling gurus!
It is recommended that mattresses be replaced every 7-10 years and this results in nearly 20 million mattresses being landfilled each year. The disposal of old mattresses poses a few problems. First, mattresses that are landfilled take up about 23 cubic feet, do not decompose, and the steel springs can easily damage equipment.  Another problem with old mattresses is that they are sometimes illegally dumped along roads or in open spaces. Not only are they unsightly, but old mattresses tend to attract pests and mold. Occasionally, our awesome volunteers will find a mattress during a cleanup and work tirelessly to pull it out of a canyon and into the dumpster. Anyone who has ever had to move a mattress knows what an effort that can be!
About 85% of the materials in a mattress can be recycled through simple manual disassembly. The polyurethane foam can be reprocessed, the cotton and steel springs can also be recycled. The wood in the mattress can be recycled but it usually has low value due to the staples. Although mattresses can be recycled, it can be quite difficult for consumers to find a place to recycle them. Our recycling hotline receives several calls from residents asking where to recycle an old mattress and many are surprised to hear that there is no drop off location for it except a landfill. However, some mattress retailers will refurbish or recycle your old mattress when you purchase a new one from them; it is best to ask your mattress retailer what is done with old mattresses.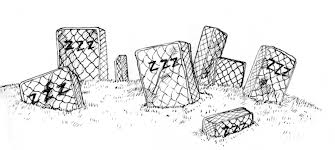 Luckily, mattress recycling may become much easier in the near future. State senators Loni Hancock and Lou Correa have introduced SB 254, a bill that would create an industry-led organization that would administer a mattress recycling program in California. The authors of the bill claim that it would help conserve resources, save landfill space, reduce the impact of illegally dumped mattresses, and create new jobs in the recycling industry. The bill was approved by the State Senate in late May and now moves to the Assembly for hearings and a floor vote. We'll keep our eyes out for any updates on this bill.
For more information about recycling, visit our one-stop recycling resource WasteFreeSD.org!