Today's blog post comes from our Development and Marketing Coordinator, Anna Fadem. Anna is currently in school and wants to make other people take tests…
We know you want to keep America beautiful. Hey, so do we!  Luckily, we here at I Love A Clean San Diego are an affiliate of a national organization called… Keep America Beautiful!  We have adopted two of KAB's programs and do them locally – the cigarette litter prevention program (which has decreased those butts by 55%) and America Recycles Day.  Keep America Beautiful recently released some really interesting information on how much Americans recycle and how we can up these rates.  Your recycled items can be turned into all sorts of cool stuff:
Recycled steel cans can become a bicycle
Recycled plastic milk bottles can become an outdoor bench
Recycled plastic water bottles can become a pair of blue jeans
A cereal box can become a board game (Life cereal=Life board game?)
KAB provided us with some good statistics on recycling.  So let's get your recycling trivia up to snuff! School's out, but here's a fun quiz where everyone gets an A (because I Love A Clean San Diego loves its readers! And because the answers are at the end of this post).
Ready Set… Go!
1. How much trash does the average American generate per day?
a. 1.3 llbs
b. 2.7 lbs
c. 4.4 lbs
2. How much of that trash is recycled or composted?
a. 0.4 lbs
b. 1.5 lbs
c. 2.1 lbs
3. How much trash does the US produce each year?
a. 57 million tons
b. 176 million tons
c. 250 million tons
4. What percentage of Americans say they are "avid recyclers" (our favorite kind!)
a. 18%
b. 38%
c. 59%
5. Why do Americans say they don't recycle as much as they should?
a. Lack of access
b. Convenience
c. Awareness/education
d. All of the above
6. So what can we do to get the message out there?
a. Mobilize individual ownership
b. Inspire an emotional connection
c. Learn what you can recycle at WasteFreeSD.org
d. Check out this really funny (really, our staff LOVES this video) PSA from KAB
e. All of the above
Let's see how ya did! Answers:  c, b, c, b, d, d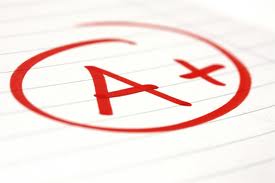 We appreciate you for all the work you do to keep American beautiful!  For more tips on what you can recycle and where, check out WasteFreeSD.org.