Today's blog post comes from our new marketing intern, Bri Lobato. Bri is currently studying environmental science and loves cheese enchiladas and English
Bulldogs. We're thrilled to have her helping out at ILACSD!
As of September 21st, San Diego is free of 75 tons of debris thanks to each and every one of our 7,500 volunteers this year at I Love A Clean San Diego's Coastal Cleanup Day! Families, friends, students, sponsors, locals, visitors, and even some loyal pets took some time out of their Saturday morning to help keep San Diego beautiful, and everyone involved made this event more successful than ever. Across a record breaking 102 sites in San Diego County, volunteers of all ages came out to give back to the city they love by picking up litter, participating in service projects, and storm drain stenciling.
Kickoff started at 9am at the Gompers Park site where 250+ volunteers heard from Supervisor Greg Cox, Mayor Todd Gloria and Councilmember Myrtle Cole, as well as I Love A Clean San Diego's very own Executive Director, Pauline Martinson, to get them fired up before going out into the neighborhood and local creek to hunt for waste. News crews were there to capture their influential words about why events like Coastal Cleanup Day are important to both the environment and the community. Volunteers at this site were able to choose among creek cleanup, mulching, invasive plant removal, painting a mural made of tire scraps, trail building and stenciling storm drains, so everyone was able to take part in their own way. No matter the task, every volunteer across the County was given a free Chipotle coupon as a reward for their efforts…and who doesn't love Chipotle!?  When 75 tons of trash is involved, you bet there were some unusual and interesting items we heard about:  bowling balls, a rooster, a steering wheel, and even a sweet female pit bull puppy were recovered! (She has been rescued and is on the road to recovery).  There was also a "Bling Your Bucket" contest, where kids decorated their own reusable litter hauling bucket.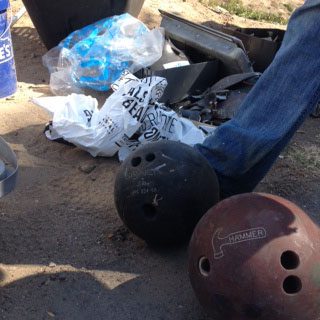 Shout out to our site captains who were instrumental in making the event run smoothly and effectively. BIG thanks to our sponsors San Diego Gas & Electric, the Country of San Diego, Think Blue San Diego and MANY more for making Coastal Cleanup Day an event that so much of the community could participate in and enjoy! A very special big thank you goes to all of the volunteers who made Coastal Cleanup Day worthwhile, and who made a difference by taking part in the largest volunteer event that San Diego County has to offer. It wouldn't be possible without you guys! We will see you all next year for CCD 2014!!