Today's blog is a special one. Two of our longest standing supporters, Jane Donley and Mindy Pellissier, graciously put together these thoughtful answers about their experience as site captains and what they do year-round to help protect OB's Dog Beach. Read on to learn more about their passion for a clean San Diego and why they want you to join them for Creek to Bay, happening April 25th!
Prior to opening the Dog Wash, Mindy & I got our first dog in Feb. 1989 and began visiting Dog Beach daily.  The Ocean Beach Town Council had adopted Dog Beach in 1972 (when it officially became an off-leash area) for cleanups 3-4 times a year.  As members of the Town Council, we became involved in the cleanups and in 1993 (when opening Dog Beach Dog Wash) took over as captains and organizers of the cleanups.
In 1996, we organized Friends of Dog Beach to cleanup and care for Dog Beach, conducting bi-weekly cleanups with several hundred volunteers.  Currently we conduct monthly cleanups (every second Saturday from 9 to 11 am) in addition to Creek to Bay, Morning After Mess on July 5th, and Coastal Cleanup Day.  We installed 12 stainless steel containers for dog bags with help from County Supervisor Greg Cox and the OB Community Development Corporation in 2002, and currently provide more than 10,000 free poop bags a week to keep Dog Beach clean.
What brings us back?
We value Dog Beach (40+ acres of sand where the San Diego River meets the Pacific Ocean) for the joy it brings to the 10,000 dogs who visit each week, the social benefits to dogs and human guardians, and the love and respect we have for the natural habitat and fresh air.  We are committed to improving the water quality of the river and ocean, and maintaining the beach as a desired destination for nature- and dog-lovers, and will always support organizations and individuals who share these values.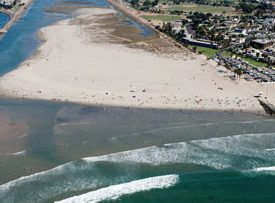 Why should others consider becoming site captains?
The best part of being a site captain is the vested interest in protecting and enhancing the beauty and health of a "great place" be it a canyon, creek, back alley or beach.  Over years one can see improvements, and socializing with neighbors for a good cause improves everyone's quality of life.  Inspiring others, especially younger generations, to respect and enhance the environment is another major goal.
Aside from cleanups, how else does Dog Beach Dog Wash protect the environment?
In our private lives, and at Dog Beach Dog Wash, we continually seek ways to protect and enhance the environment.  We've planted trees, and conserve water with low-flow devices, synthetic lawn and low-water plants.  We use recycled and recyclable paper products, green cleaning products, "Energy Star" appliances, and sell healthy organic dog treats and dog/cat collars and leashes made from soy and recycled plastic bottles. Because of potential zoonotic diseases, we cannot use recycled water; we looked into that.
We also donate our used towels and dog accessories to local animal shelters to be re-used for dogs & cats awaiting forever homes.  We support organizations that share our values for sustaining and improving the environment, including I Love A Clean San Diego, Think Blue, Surfrider, Coastkeeper, and the San Diego River Park Foundation.
Mark your calendars – registration opens Wednesday, April 1st! You'll have the opportunity to choose from 100+ cleanup sites across San Diego County, including Jane & Mindy's site in OB! For more information & to register, please visit www.CreektoBay.org. In a matter of only a couple hours, you'll be able to show pride for your community working along side neighbors to ensure a safe and clean environment for current and future San Diegans!