Today's blog comes from our Director of Development and Marketing, Morgan, who has been working directly with the City of Encinitas to prepare shoppers for the second phase of the single-use bag ban. Read on to learn more about how I Love A Clean San Diego is working to make the this transition as seamless as possible! 
Attention Encinitas Shoppers!
Starting October 10th, the second and final phase of the Encinitas single-use plastic bag ban goes into effect. That means that department stores, clothing stores, hardware stores and even farmer's markets will no longer be offering single-use plastic bags to shoppers.

In order to help ease shoppers into this new policy, I Love A Clean San Diego has partnered with the City of Encinitas to coordinate a series of bag giveaways to coincide with the Phase II implementation.
Come by the following stores and centers and get your free reusable bag to use for your next shopping trip! Remember, there are limited quantities, so act fast!
Sunday, October 4th from 11AM – 1PM:
Encinitas Ranch Town Center – between PetSmart and Barnes and Noble, 1034 N El Camino Real, Encinitas, CA 92024
Encinitas Ranch Town Center – between Buy Buy Baby and Target, 1014 N El Camino Real, Encinitas, CA 92024
Home Depot, 1001 N El Camino Real, Encinitas, CA 92024
Leucadia Farmers Market – Paul Ecke Elementary School, 185 Union Street, Encinitas, CA 92024 (from 10AM – 1PM)
Wednesday, October 7th from 4 – 6PM:
Encinitas Farmers Market – 600 S. Vulcan Ave, Encinitas 92024
Fast Facts about Plastic Bags:
It is estimated that 31.9 million single-use carryout bags are distributed in the City of Encinitas each year.
Studies have shown the prevalence of single-use carryout bags are responsible for littering the environment, blocking storm drains and polluting beaches, oceans and the marine environment.
Single-use bags made from plastic do not decompose, therefore they exist in the environment forever.
Plastic bags are a significant source of marine debris and are hazardous to marine animals, such as turtles and birds, which often confuse plastic bags as a source of food and ingest these bags, causing reduced nutrient absorption and death.

Tips to Remember Your Reusable Bags:
Set your car keys on your bag.
Keep reusable bags in the trunk of your car and put a small note on the dashboard or your shopping list to remind you to grab them. Once you unload your groceries at home, put the bags back into the trunk immediately so you'll have them for your next trip.
Purchase a few compact reusable bags and keep them in your purse, jacket pocket, backpack, or attach them to a keychain.
Ask your children, spouse or roomate to remind you to bring your bags.
Keep bags in multiple places, like at home, in the car, and at the office.
If you still manage to forget your reusable bags, you can always put everything back into your shopping cart after you pay and unload directly from the cart into your car. Then bag the items to carry in when you get home.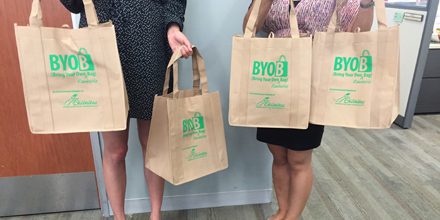 Do you have questions about the bag ban? Post them in the comments below!