2016 was a great year for I Love A Clean San Diego! Check out the highlights of our impact in San Diego this past year.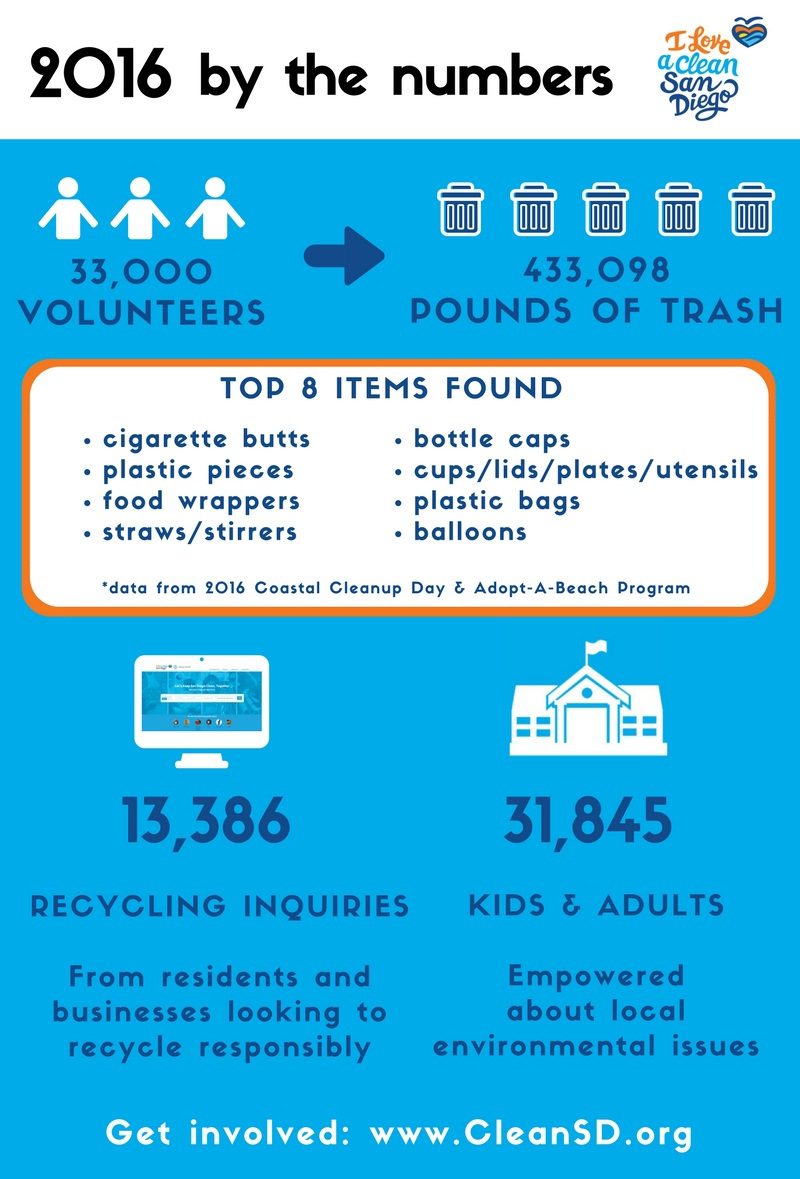 2016 Accomplishments Breakdown:
We led 250 cleanups in 74 communities around San Diego. Of the 433,098 pounds of debris picked up at cleanups, the most common items were cigarette butts, plastic pieces, food wrappers, and straws/stirrers. 63,183 cigarette butts were found during last year's Coastal Cleanup Day and through our Adopt-A-Beach program alone! The weirdest items? We found a dog house, wizard hat, wedding dress, and dentures.
Our Education team empowered more than 31,000 kids and adults through 750 presentations around San Diego County. The presentation topics focused on local San Diego environmental issues, such as watershed protection and zero waste.
Our Recycling Programs team received more than 13,000 inquiries through our hotline and recycling database, WasteFreeSD.org. The most frequently requested items: paint, motor oil, medicine, florescent light tubes, and sharps/needles. If you aren't sure where to recycle these items in your area, visit WasteFreeSD.org and search by item and zipcode.
Want to get involved with us in 2017? Subscribe to our newsletter to hear about upcoming volunteer events. Subscribe to our Facebook events to get updates whenever we add an event. Adopt a beach, canyon, or park in San Diego through our Adopt-A-Beach Program to get involved on a more regular basis. Or join our Clean Committee to become a bigger part of the ILACSD team.