Each year, I Love A Clean San Diego hosts the Creek to Bay Cleanup with over 100 cleanup sites throughout San Diego County. This large-scale annual cleanup would not be possible without the help of our volunteer site captains.
Coming into its 15th year, the Creek to Bay Cleanup will see both new and returning site captains. ILACSD has been so fortunate to have help from teachers who are committed to getting their students involved in activities that directly make an impact on their community. Today, we're spotlighting Sydney Phillips.
Ms. Phillips first got involved with Creek to Bay as a site captain when she started teaching an 8th grade AVID class at Potter Junior High in Fallbrook 5 years ago. AVID is a class that prepares students for college readiness and success by providing academic and social support. With the general high school graduation requirement of students to volunteer in their community, the Creek to Bay Cleanup is a great opportunity for the students to receive service hours that go towards their graduation.
As an educator, Ms. Phillips is very passionate about empowering her students, both as individuals and as members of their community, and making them aware of the difference they can make. Her cleanup site at Live Oak Park in Fallbrook is close to the junior high where she teaches so the students are familiar with it and are invested in keeping it clean. She says that events like Creek to Bay are important for the community and the students because "living in a rural community, students (can) have a hard time to complete community service hours and coming into high school, hours are required so getting a jumpstart on it while they're in 7th or 8th grade empowers them."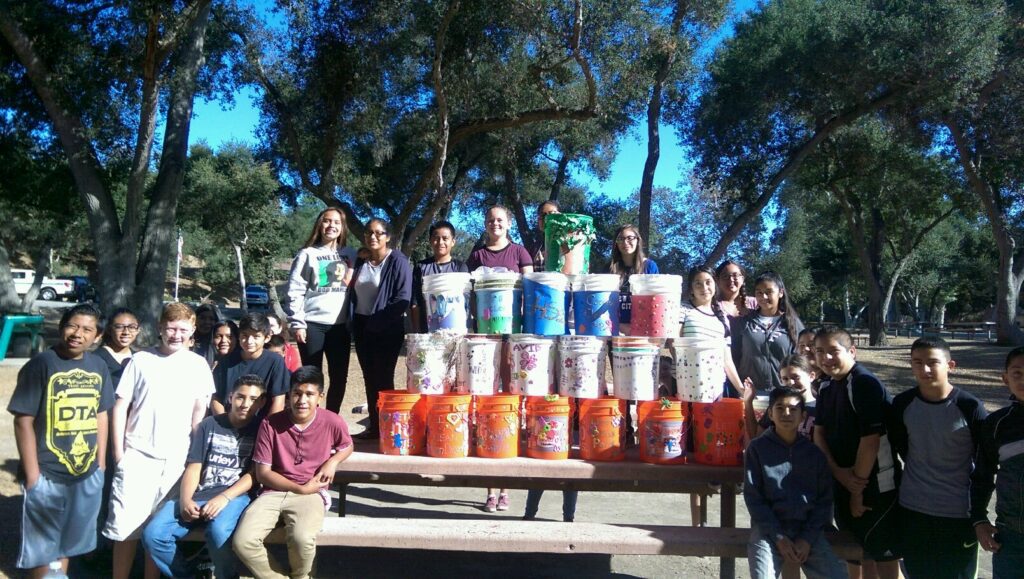 Ms. Phillips favorite part about Creek to Bay is the bonding experience for the students, not only between 7th and 8th grade classes but also with the high schoolers that get involved in the event as well. There are high school AVID classes from the area who have volunteered in the past and she says that having the common experience is really special and "it's exciting and fun because they get to do something they normally wouldn't. At the end, they get to celebrate and commemorate the day with a picture together."
This year, she's looking forward to the Bling Your Bucket competition in which volunteers have an opportunity to decorate buckets to be used for cleaning. She says that each year the students love that activity and afterwards, the buckets get donated to the custodial staff at their school. To anyone who's debating whether or not to volunteer for Creek to Bay, Ms. Phillips would say, "Absolutely do it. It's empowering to see that you are having a direct impact on your community."
By volunteering at the Creek to Bay Cleanup, we can help reduce our impact on the local environment. Keep San Diego beautiful and show it some love! Save the Date for the Creek to Bay Cleanup happening on Earth Day, April 22nd by registering today at CreektoBay.org!
A big thank you to Ms. Sydney Phillips for her work as a site captain and to Potter Junior High for supporting I Love A Clean San Diego's Creek to Bay Cleanup!