Today is the 10th annual America Recycles Day a nationally recognized day and an initiative by Keep America Beautiful that promotes ways to reduce, reuse, and recycle in our everyday lives. America Recycles Day is dedicated to the individual actions that people can take that create a collective difference for our environment! Having normal "blue bin" style recycling in the office is an awesome start, but let's take a look at some other ways to boost your recycling program (if you don't have a recycling program in place, check out our previous blog post that can help you get one started). Here are three easy ways you can enhance your workplace recycling in celebration of America Recycles Day.
Deal with the Graveyard of Dead Electronics: Recycle Electronics
Electronics are all around us, especially in a workplace. So what happens to all of those electronics when they kick the bucket? Electronic waste, also known as e-waste, should be properly recycled with a certified e-waste recycling company. Printers, computers, laptops, fax machines, phones (yes, most offices have landlines) can all be taken to a recycling location or a temporary collection event. Some businesses even offer to pick these items up from your workplace. Start by designating a spot in your workplace to collect electronics that are no longer working and can no longer be repaired (you can search for repair options on WasteFreeSD.org ). When you want to recycle the collected e-waste, simply use the search bar on WasteFreeSD.org by typing in a specific item, "E-waste Collection Event", or "Electronic Waste Pick-up".
Donate Before Ditching: Give Unwanted Office Supplies and Furniture to a Thrift Store
Does your workplace have way too many paper trays or stockpiles of old binders? Did your office go through a remodel and now has a bunch of outdated office decor? Don't toss these items! Give your supplies and furniture a shot at finding a new home by donating them to a thrift store. Start by letting your colleagues know about the collection of unwanted office supplies, where they should drop off their unwanted supplies, and give them the opportunity to grab something they might need from the collection before it's donated. Head over to WasteFreeSD.org to search "Thrift Stores" if you don't know your nearest one. You can even find a local thrift store or organization that specializes in just second-hand furniture if you recently upgraded your office furniture.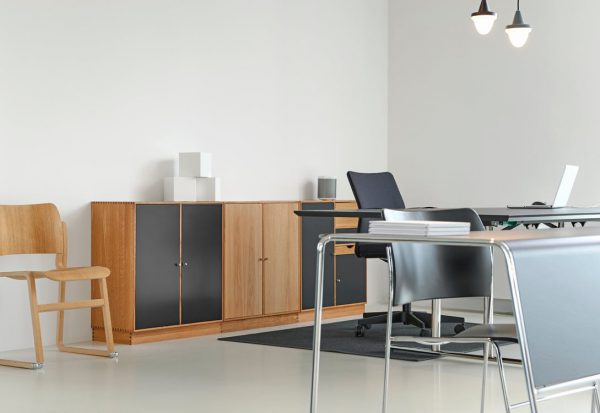 Stop Wasting Half the Paper Supply: Print Double-sided
A staple in almost any office is a large industrial printer. And chances are your office goes through a ton of paper. Remember to recycle that paper first off! Ensure that each cubicle, office, and room has a recycling bin and clear signage indicating the types of items that should be placed in it. But there is also another option to cut down on wasted paper: printing double-sided. Change your printer's default setting to printing on both sides to reduce the amount of paper used. Another option is to have a pile of "previously printed on paper" that has an unused side. Utilize paper from this pile to manually feed into your printer for one-sided print jobs or for scratch paper!
Keep Up the Recycling Momentum
Don't let your recycling efforts fade after America Recycles Day ends. Keep the conversation going! Each workplace should have a designated recycling champion…that can be you! Kindly remind your co-workers about recycling guidelines, reward anyone you catch "green-handed" (recycling correctly or contributing to the donation pile), and celebrate your workplace achievements with all of the staff. Don't wait until the next America Recycles Day to implement a new practice and remember to provide your team with resources that make recycling crystal clear.
For more information regarding recycling, visit the Resources Page at WasteFreeSD.org or register for an upcoming workshop.