Bike to Work Day is less than a week away! Are you ready to ride? Celebrated regionally in San Diego this year on Thursday, May 17, 2018, Bike to Work Day is a nationally recognized event that encourages everyone to GO by BIKE and supports biking as an everyday, environmentally friendly commute choice. However, if you're not a regular rider, it's important to think about a few things before you jump on two wheels. Here are a few things to review and prep to have a successful Bike to Work Day!
Before the Big Day
What You Need:
Well, first and foremost, you need a bike. According to iCommuteSD, "Participating in Bike to Work Day means using pedal power. Beach cruisers, mountain bikes, road bikes, elliptical bikes, electric bikes, and bikeshare bikes are all great ways to GO by BIKE." You'll want to make sure the type of bike you have is suitable for your ride (maybe avoid a beach cruiser if you'll hit a lot of hills on your route). You'll want to make sure your bike is in good condition before you go. Check the brakes, tires, and chain to make sure they are properly maintained. Make sure your bike fits you comfortably. Check your seat height and handlebars.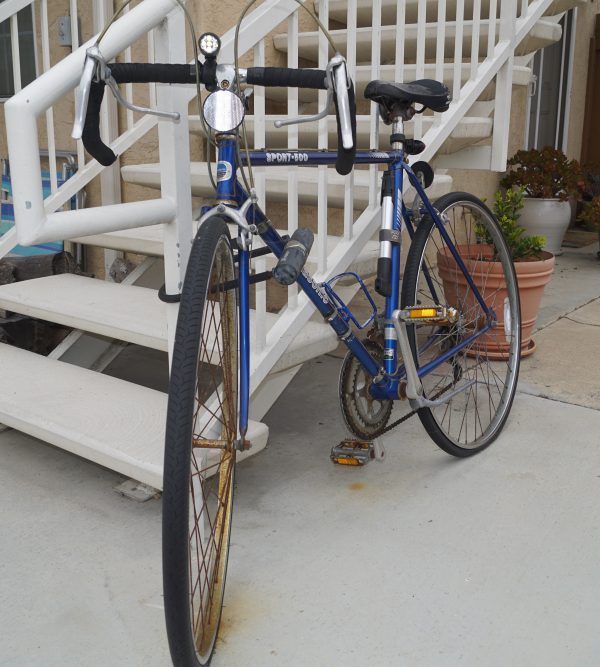 If you don't have a bike of your own, you might want to make sure you have a plan for utilizing a bikeshare bike on a day they will likely be very busy! Luckily, a few bikeshare programs will be running a Bike to Work Day special! Discover Bike, LimeBike, Mobike, and Ofo will all offer free bike rides for up to one hour on Thursday, May 17 to the first 100 people from 6 – 9 AM. Just use the following promo codes: Discover Bike (33844), LimeBike (LIME2WORK), Mobike (sandiegobtw), or Ofo (SDBTWD2018).
Outside of a bike, you'll want to make sure you have a helmet! Safety is key on a bike. If you take a spill, you'll want to make sure you have a helmet on and any other protective gear you prefer. California law requires everyone younger than 18 to wear a helmet.  On top of a helmet, you'll want to make sure you have a way to lock your bike up (unless you use a bikeshare bike). You can protect your bike with a lock (make sure you lock up your bike properly if you have any quick release tires) or utilize one of many bike parking or bike locker options.
Does your bike have a basket or spot to store a few things? If not, make sure you have a backpack or something to carry any items you might need to take to and from the office. If you have a long ride ahead of you, consider leaving a change of clothes and shoes in your office a day before. Make it easier on yourself and carry less by having anything you need to freshen up after your ride already at the office.
Depending on when you ride, you might need to consider lights for your bike as well. Being seen is vitally important! If the sun will be down for any portion of your ride, come prepared with lights. For longer trips, you might consider a patch kit and tire pump, but luckily, there will be plenty of pit stops on Bike to Work Day. Don't forget your manners! Know all the hand signals for riding and always keep bike etiquette in mind!
Plan Your Route:
Know where you want to go! It's important to be safe when you share the road with motorists. Be prepared by knowing the best route to your office for when on two wheels! The best route to work in your car may not work so well on your bike. Use the iCommuteSD interactive Bike Map to help figure out the best way to GO by BIKE.
Get Registered:
Register for Bike to Work Day to get all of the information on pit stop locations and be a part of the thousands of commuters throughout the San Diego region participating in Bike to Work Day on Thursday, May 17. When you register for Bike to Work Day, you can pick up a free t-shirt at one of 100 pit stops throughout San Diego County from 6 to 9 AM (participants must show proof of registration to claim their free t-shirt). 
While You Ride
People riding bikes have the same rights and responsibilities as people driving cars. You can use a rack or backpack to keep your hands free. Hand signals should always be used to indicate your turns. Avoid using headphones or a cell phone. Be aware of traffic laws just like you would in a car! Use bike lanes when available, but know your rights on the road when sharing with other vehicles!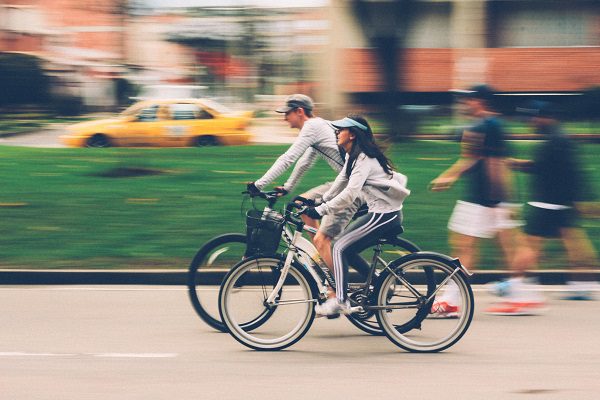 Need a Break? Hit a Pit Stop
A total of 100 Bike to Work Day pit stops are planned across San Diego County, which will be open from 6 to 9 AM on Thursday, May 17 for anyone who registers. Pit stops offer fun breaks for bike riders to rest and pick up a free t-shirt, snacks, and encouragement. Some stops may even be able to assist with minor maintenance if you run into an issue. For a list of the Bike to Work 2018 pit stop locations and to see what is offered at pit stops along your route, check out the pit stop map.
Go Beyond Bike to Work Day
GO by BIKE All Year Long
The fun doesn't stop after Bike to Work Day! San Diego has over 1,570 miles of bikeways in the San Diego region, you can get almost anywhere by riding a bike. You can participate in the City of San Diego's Transit Tuesdays every week on your bike. iCommute is always a helpful resource to get started with riding tips, information about taking your bike on transit, bike safety tips, and more.