Corporate CleanBuilding Now Hosted Virtually
I Love A Clean San Diego County's hosted and private impact-driven, team building cleanup activities for businesses goes virtual.
We agree, It is critically important to stay healthy and safe during this time. As many of us have transitioned from in-office culture to working from home, we find it is even more important now than ever to keep teams united to increase team morale, sustain productivity and retain employee satisfaction.
Our Corporate CleanBuilding program provides customizable and educational cleanup activities for impact-minded businesses hosted entirely by I Love A Clean San Diego. Now offered in a virtual format, we organize a "walk your block" cleanup for your employees to work together, while physically apart. Individual team members beautify the blocks around their neighborhood while staying virtually connected to their team all over San Diego County! We can even organize this experience for larger corporations with offices throughout the state!
Why Cleanup?
By 2050 the world's oceans will hold more weight in plastic pollution than fish. Trash that does not make its way to landfills ends up traveling into our rivers, storm drain systems and eventually flows directly into the Pacific Ocean. No matter where volunteers choose to clean up litter, they will prevent pollution in San Diego County's eleven watersheds and support a healthy ecosystem. Your company and team can make a positive environmental impact!
Work with Us!
As San Diego County's most influential advocate for sustainability, I Love A Clean San Diego has over 65 years of experience. We have always been dedicated to leading and inspiring action to empower our community to improve the health and beauty of our local environment. Our team coordinates over 34,000 volunteers annually who remove half a million pounds of litter and debris from San Diego's neighborhoods, creeks and coastline.
What to Expect
Our Community Programs Team will plan all event details for you to simply enjoy the cleanup experience.
First things first!
Schedule the big day. We work with your company to identify a date and time that works best for your team. We provide all cleanup guidelines and information to get your team excited and enrolled in the big team cleanup! Your team will be equipped with local litter disposal information, recycling resources and safety guidelines for the cleanup.
Track your accomplishments
Your team will have access to a personalized Volunteer Impact Map to track their litter debris totals and see the immediate impact of their efforts. This visualization includes cleanup locations for each team member, the total debris removed from your team's efforts, unusual items found and any photos uploaded from your team during the cleanup! You will be able to show your entire company an immediate visual of your efforts and quantitative measurement of your litter removal efforts! Below is an example of the Volunteer Impact Map from Blue Shield of California's statewide cleanup.
Keep Teams Connected
Prior to your cleanup, we facilitate an online virtual kick-off your team to tune in for tips on best cleanup practices and to learn more about the impact of litter pollution on our environment. The virtual kick-off will be led by I Love A Clean San Diego staff and include all participants from your team. We take this opportunity to share the impact of plastic pollution, litter prevention and urban runoff impact on our environment. This is a chance to solidify some of the ideas and concepts that inspire our efforts during the cleanup. It can also begin a conversation toward new waste reducing habits at home and work!
Supplies & Zero Waste Cleanups
Upon request, I Love A Clean San Diego is available to drop off disposable supplies in the San Diego Region for an additional fee. Your team will also receive suggestions for repurposed household items to avoid using disposable supplies.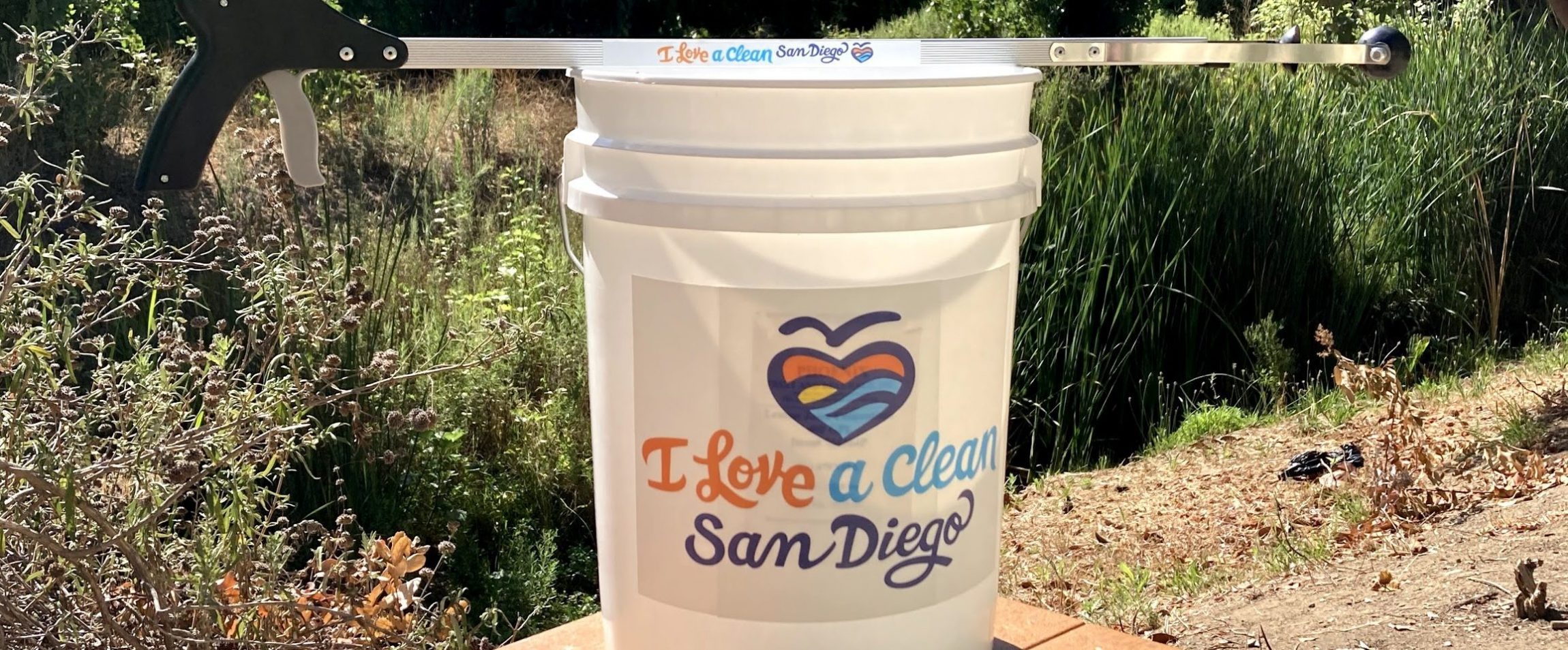 Upgrade your event and support I Love A Clean San Diego with our upcycled buckets and grabber kits! I Love A Clean San Diego's 'Drop in the Bucket Program' sources used buckets from Local restaurants & Deli's, diverting waste from our landfills & giving it a new life!
Get Started Today
Our CleanBuilding program provides actionable teamwork with quantifiable results and tangible takeaways. We provide waste reduction insights for your company and educational tips for your employees. Strengthen your team and make an immediate positive environmental impact. Employees value community involvement, creative team building opportunities and time spent outdoors.
We are eager and excited to work with companies in San Diego County dedicated to contributing positively to our environment. Developing awareness and promoting sustainable practices can have a lasting impact on employees and the environment.
If you would like I Love A Clean San Diego to coordinate a cleanup for your business, please contact Jackie Blumenthal by phone at 619-787-2604 or email at jblumenthal@cleansd.org.