Recycled Crafts: Toilet Paper Tube Binoculars
Wondering how to teach your kids about Zero Waste? Recycled crafts are a great place to start! Creating crafts from materials you already have at home is the perfect way to help teach your children about the importance of resource conservation and upcycling.
Here in San Diego County, we create a lot of waste. Residents create an average of 5.6 pounds of waste per person per day. This adds up to 2,044 pounds of waste per year, weighing more than a giraffe! After we throw our trash away, it never really goes "away," but rather ends up in our landfills. With the current rate our waste is entering our landfills, they are expected to close a lot sooner than we realize. Regionally, our landfills in San Diego County are estimated to close in 2052. In order to avoid going out into our environment and building a new landfill, it is important to see how we can reduce the amount we are throwing away and slow the rate at which our landfills are filling up.
Get Creative and Reuse!
So, how can we throw less away?
Recycling is a great place to start! By sorting our metal, paper and cartons, glass and plastic containers into our recycling bin, we are helping to put these resources back into our economy and produce new products!
Looking to take it one step further? Reuse! Reusing is one amazing way to reduce what we throw away and help our environment thrive. By reusing an item, you are using something again or in a completely new way, giving the item a whole new life. There are many ways to reuse items, but one clever way to get kids involved is to make toys from "trash!" Creating recycled crafts is a great way to get creative with your children and simultaneously teach them about why it's important to reduce what we throw away.
Start off by taking a look at the items you have at home: toilet paper or paper towel tubes, soda bottles, newspapers, magazines and plenty more! There are so many crafts you can create with traditionally recycled materials. Crafting with repurposed materials helps children think outside the box, while developing fine motor skills and expressing themselves in unique ways; let your child's imagination take the lead!
Getting Crafty
Don't toss your toilet paper tubes! They're great tools to see the world. Simply follow the below instructions and build your very own binoculars.
With a few supplies from around your home, you'll have everything you need for an afternoon of creativity and science! Follow along to learn how to make Toilet Paper Tube Binoculars.
How to Create –  Toilet Paper Tube Binoculars
Step by Step Instructions
Materials:
Two (2) toilet paper rolls
Scissors
Glue
String, ribbon, yarn, or wire
Scrap paper or photos
Markers, paint, or crayons
Hole punch or pen
Follow these steps:
1. Gather supplies. Create your own drawing, gather photos from magazines and newspapers, or use wrapping paper to create your own designs to decorate the binoculars.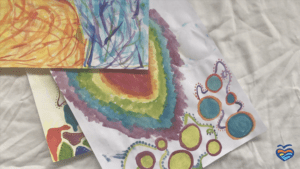 2. Cut your picture, designs or photos to the same length as the toilet paper roll. Place glue on the back of the photo or picture.
3. Roll the paper around each tube. Let it dry. Punch a hole in each side of the toilet paper roll with a pen or hole punch.  You may want to ask for help with this step.
4. Glue the two rolls together. Tie a string on the side of each roll for a neck strap. Once dry, your binoculars are ready to see new things and explore your world.
Visit I Love A Clean San Diego's YouTube channel to view the video on How to Make Your Toilet Paper Tube Binoculars!
Backyard Science
Once you're finished making your binoculars, let your budding scientist take inspiration from the outdoors and explore their living landscape! Take a walk around your neighborhood, backyard, park, or playground to see what they can find.
Scavenger Hunt Idea – What can you spot with your binoculars?
Observe what's around you. Have your child make a list of what they spot. Have them record what they see, draw a picture or describe what the item looks like, noting any specific characteristics.
Keep an eye out for any local San Diego County species:
☐ Animal      ☐ Mineral      ☐ Vegetable      ☐ Wood      ☐ Metal
☐ Plastic      ☐ Glass         ☐ Paper            ☐ Insect