19th Annual Creek to Bay Cleanup
April 24, 2021 @ 9:00 am

-

5:00 pm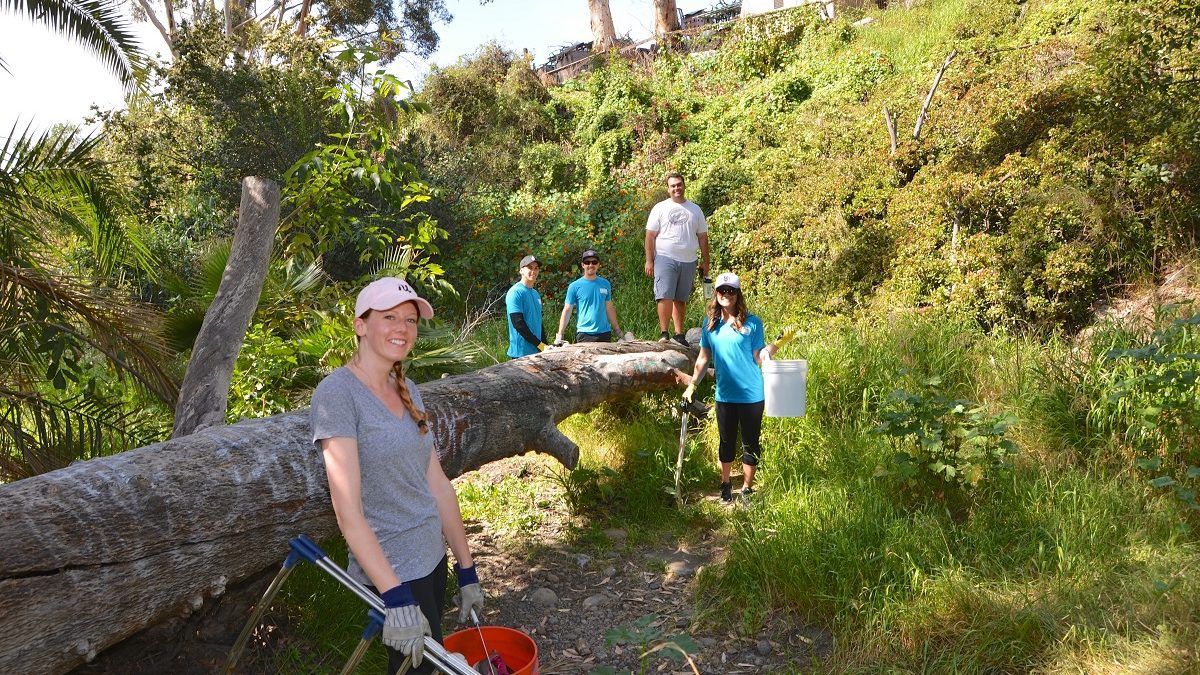 Event Navigation
19th Annual Creek to Bay Cleanup
Free online registration opens on April 1
ONE DAY – 30,000 POUNDS OF LITTER CHALLENGE
Get into action this Earth Day by participating in the19th Annual Creek to Bay Cleanup on April 24th, 2021. Register to be a part of the largest single day environmental action event in San Diego County by removing polluting litter and debris from your community. After a challenging year for many, we are excited to turn our collective passion into action and make a positive impact on Your Neighborhood, Our Earth.
We invite you to get outside, stay close to your home, and collect litter throughout the streets of your neighborhood anytime on April 24th. By joining forces with I Love A Clean San Diego and getting out in your local community to remove trash, you can support your neighborhood and protect our San Diego watersheds. Volunteers of all ages are invited to grab buckets and work gloves and walk your block. No matter where you live in San Diego County, every gutter, street, parking lot, park, canyon and beach is in one of the county's 11 watersheds. The health of these systems means healthier creeks and ocean for all of us!
Goal to Remove 30,000 Pounds of Litter
At Creek to Bay in 2020, volunteers self-reported 15,682 total pounds of litter removed in one day! Our goal this year is to double our passion, double our action, double our litter removed from our environment! Help us remove 30,000 pounds of litter in a single day – Saturday, April 24th! Once you register, a survey link and QR code will be sent to help report litter totals after your local neighborhood cleanup. Your self-reported litter totals will be automatically uploaded to our Volunteer Impact Map and contribute to our county-wide cleanup goal of 30,000 pounds of litter removed. Reported totals helps give us a snapshot of what is impacting our region year to year and gives our organization insight into how to keep our neighborhoods and environment litter-free. Thank you for making the effort to be citizen scientists and report back on litter collected.
I Love A Clean San Diego is hosting a Bucket Drive April 10th from 9am-1pm at our office in Kearny Mesa for the 19th Annual Creek to Bay Cleanup. Swap those disposable cleanup supplies out for a zero waste cleanup kit! Donate $30 or more to our organization and receive an Upcycled Cleanup Kit as a thank you gift with a branded bucket and grabber – all the tools you will need for a zero waste cleanup! The 'Drop in the Bucket Program' sources buckets from local restaurants and upcycles them into cleanup resources to keep waste out of the landfill and litter out of our oceans. Join us in a zero waste cleanup on April 24th, and be a drop in the bucket towards a litter free San Diego! Donations for cleanup kits prior to the Bucket Drive on April 10th must be made through this link – Donate Here! Pending inventory availability, you may make your donation on site.
Registration opens Thursday, April 1 at CreektoBay.org
Officially sign up on April 1, 2021 and then get ready to clean up your neighborhood on April 24th. Registered volunteers will receive important safety and virtual event resources and information to have a successful cleanup. Contact the Volunteer Coordinator, Jackie Blumenthal, to register by phone if you do not have internet access: (619) 787-2604. Throughout the month of April, we will share event updates, fun content, and more to prepare you for the big day. Learn more about patches, community service verification, and more at CreektoBay.org.
Related Events