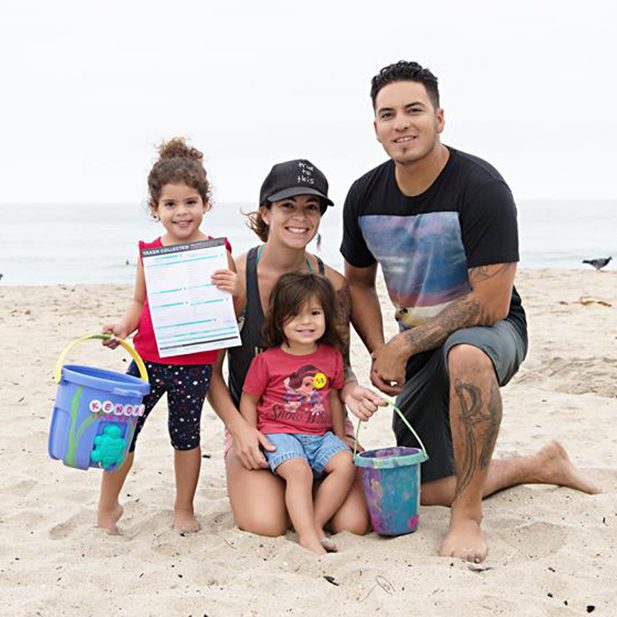 The Adopt-A-Beach®/Canyon program makes it easy for you to run a cleanup independently at your chosen location! Schedule a date and time that works for you! This program is for all groups of all ages!
Volunteers are welcome to participate in litter abatement as often as they would like (even just once!), but to officially adopt a site your group would have to do a minimum of three cleanups in one calendar year at that location and report your litter data to I Love A Clean San Diego after each one. Volunteers who collect and report detailed litter data from their cleanups can also be recognized through our sign program, at participating locations.

Why Adopt?
30,279 lbs of litter
diverted from our oceans by Adopt-A-Beach/Canyon volunteers since 2019
Litter and other harmful materials travel through our watersheds and end up in our oceans. This is extremely dangerous for Earth's ecosystems. Plastic marine debris causes the deaths of more than a million seabirds and over 100,000 marine mammals every year.
Litter happens everywhere in San Diego County and it travels unfiltered through our storm drains and natural streams out to our beaches and bays. It is up to us all to keep our beaches and shared spaces clean and safe for all.
As an Adopt-A-Beach/Canyon Volunteer, you will pick up and report essential litter data that provides a snapshot of what is impacting our communities. This data is shared with the California Coastal Commission and Ocean Conservancy to track the state of litter in San Diego County over time. Data from this program helped pass the California Bag Ban, and we hope to continue to create lasting change with your help!
Map of Adoptable Locations across San Diego County
How to Get Started!
1. Find your site
There are 80 adoptable locations throughout San Diego County!
2. Schedule your cleanup
Schedule a date and time that works for you at our Community Hub! Please schedule a minimum of 1 month in advance to be reviewed and permitted by I Love A Clean San Diego. Staff will reach out if there are issues with availability.
3. Gather your cleanup supplies
Limited supplies are available at our office for pick up during office hours (Monday – Friday from 9 AM – 4 PM), and closed on holidays. These supplies include disposable gloves, buckets, trash bags and data cards. We strongly encourage volunteers to use reusable garden gloves from home to reduce the amount of plastic. We are unable to provide trash grabbers at this time.
4. Report your data and return your waivers
We require a signed release-of-liability waiver for all volunteers, and anyone under 18 needs a waiver signed by a guardian. Please download and print the waiver, have everyone in your group sign it and drop it off at the office after you are done with your cleanup (can be up to a week post-cleanup event).
This program also requires that volunteers report their detailed litter data after their cleanup event. As you collect, you will note how much of each type of litter you picked up. We encourage you all to cleanup in teams, with one person as the citizen scientist recording the data! This is important for us to track trends over time, areas in need and create more targeted educational material. Please return your data cards to the office after your cleanup (can be up to a week post-cleanup event) or enter them online at our Community Hub. Please note you will have to report this data each time if you would like to be eligible to adopt a location officially.
5. Repeat for a grand total of three cleanups at one location!
Once you have cleaned up a location three times within a calendar year, delivered all of your waivers and reported your litter data you will have officially adopted a location! Some locations honor this with a sign of recognition that proudly displays your group's name for at least six months at the site. On the Community Hub map, you can filter for sites that are eligible for the Signage Program.
Educational Presentations
We offer educational presentations to first time adopters if requested and approved ahead of time for locations within Central San Diego! These presentations are given to your group before your cleanup. They discuss the watershed system, the effects of marine debris on the environment, the importance of volunteerism, and a brief safety talk. Please note that these presentations are not guaranteed, depend on staff availability, and need to be requested in advance.
Beach Wheelchair Access
If a volunteer requires the use of a beach wheelchair, the California Coastal Commission has a map of locations with wheelchairs available free of charge. Click here to view available locations. You will have to contact the beaches directly to make those arrangements.
Funded In-Part By Supporting Sponsors
Adopt-a-Beach is supported by the WHALE TAIL® Coastal Protection License Plate grant and donations from the Protect Our Coast and Oceans Fund. The WHALE TAIL® License Plate is an official specialty license plate issued by the California Department of Motor Vehicles. Proceeds from sales of the plate benefit the Adopt-a-Beach program.
Help support programs that support California's coast by getting your license plate today!
Contact Us
Volunteer Programs Coordinators – Program Support & Volunteer Assistance
volunteers@cleansd.org
Steve Morris – Donations & Corporate Support

Honoring Adopters
Biolegend, Christina Huang, Francis Fuentebella, Gabby Marquez, Jed Macadangdang, Kevin Donato, Michelle Ledesma, Nathan Lawrence, Navy Federal Credit Union, Neurocrine Biosciences, PRIDE Industries, Room & Board, Rowena Beckett, The Nguyen Family – Promenade, Tochukwu Chidiebere, TVIA-SD1, UCSD Political Science Graduate Students, Zsarah Lynn Tran, Kaitlyn Hart Group, San Diego Surf Ladies, Millennium Health, Molly Reeves, High Tech Elementary, Four Seasons and BV Elementary School, Mystic Point Families, Rosemary's Haven, North County Academy, Cashin Family, SEA LIFE Aquarium, 2 Legged Mermaid, Mission Hills United Church of Christ, Public Civic Engagement, Gabriela Galvan, Living Coast Discovery Center, Hilltop High Clean Up, E.B.C. Group, Cassandra Garrison, CNATTU N.I FCPO/SSGT Association