Zero Waste Fair
Celebrate and Learn About All Things Zero Waste!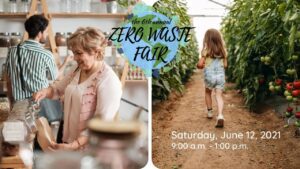 This year's Zero Waste Fair will be presented in a virtual format. Register today to receive the link to join!
About
I Love A Clean San Diego County and the City of Encinitas invite San Diego County residents to celebrate and learn about all things zero waste! Whether you are curious about what exactly zero waste means, or are actively working towards a low waste lifestyle, this unique event touches on a variety of topics and issues related to sustainability. Join us for the 6th Annual Zero Waste Fair on Saturday, June 12th, from 9:00 AM – 1:00 PM for a series of mini-segments covering everything from sustainable fashion to current environmental justice concerns.
This Year's Topics
Low-Waste Living
Composting
Recycling
Environmental Justice
Food Systems
New Technology for Organic Waste
How to Attend
Although this year will be presented in a virtual format, special guests will join I Love A Clean San Diego to expand on helpful information delivered in many of our traditional workshops and webinars. We will dig deeper into common topics, explore new themes, and bring in local voices to further develop the discussion. Throughout the morning and into the afternoon, I Love A Clean San Diego's Environmental Educators will guide attendees through half hour and quarter hour live segments.
No matter where you are on your sustainability journey, log on for the topics that inspire you. There is no need to commit to the full four-hour event. You are welcome to hop on and off at any time.
Segments cover a range of topics and dive into local updates and complex issues. Stay tuned for a detailed schedule of speakers and topics by registering today.
A Zoom link will be provided in your registration confirmation email. Attendees will also have the opportunity to discover local resources and win sustainable prizes! Can't wait to see you there!
The Zero Waste Fair is typically presented live and in person at the EUSD Farm Lab in Encinitas. We hope to see you back in person in 2022!